"Reading is still the main way that I both learn new things and test my understanding" – Bill Gates
The world's most successful business leaders know that self-education never stops, and the easiest way to educate yourself is simply to read books!
Taking place on the last Wednesday of every month, our BookClub allows you to join a community of growth-minded business owners from London, Middlesex and Surrey.
We'd love for you to get involved, so your first session is on us. That way, you can give the BookClub a try without losing anything.
Come and join the discussion on Wednesday 27th September. You can buy this month's book below, and we'll provide the learning, socialising, and expert advice from three top London business coaches.
Join our BookClub community to:
Read & learn from the most influential business books ever written

Do so in the company of like-minded peers in a safe & fun environment

Discover our 30:10:5 method for reading AND retaining your learnings

Learn from key insights provided by three top London business coaches

Implement your learning into results in both your business and your life

Challenge your thoughts and beliefs about what is possible in your business
Our next book:
'The Diary of a CEO: The 33 Laws of Business and Life' by Steven Bartlett!
Runaway No.1 Bestseller by STEVEN BARTLETT: entrepreneur, podcaster and Dragon's Den star
This is not a book about business strategy. Strategy changes like the seasons.
This is a book about something much more permanent.
At the very heart of all the success and failure I've been exposed to – both my own entrepreneurial journey and through the thousands of interviews I've conducted on my podcast – are a set of principles that can stand the test of time, apply to any industry, and be used by anyone who is search of building something great or becoming someone great.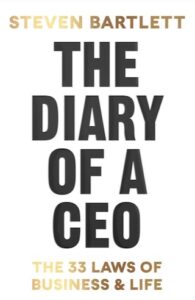 These are the fundamental laws that will ensure excellence.
They are rooted in psychology and behavioral science, are based on the wisdom of tens of thousands of people I've surveyed across every continent and age group, and of course, drawn from the conversations I've had on my chart-topping podcast with the world's most successful people.
These laws will work now or in 100 years from now. Are you ready to get started?
Come along and try your first BUSINESS BOOKCLUB session for FREE!
If you enjoy the session, we can then help you commit to reading and learning for six months.
Still not convinced? Read what members of our community have to say…
"Books are the way to hang around with high achievers who have done what you're looking to do."
"Never in a million years would I have picked this book up off a shelf to read. Thankfully I am now a BookClub type of person! I have never nodded my head and laughed so much – I genuinely feel like it was written about me and, after last night's event, it's clear most small biz owners do too. So good when you realise you are not alone and have many similarities with other business owners."
"Brilliant fun. Such an enjoyable and focused way to learn with some really interesting insights."
"Sorry to have missed it last night – I heard great things from the other participants. Will book on the next one!"
"Loved the BookClub. Thanks for laying this on."
Wednesday 29th November
5:30 pm - 6:45 pm
from £35.00+VAT
ZOOM ONLINE

ORGANISER'S PHONE NUMBER
0740 729 2339